The phrase "variety is the spice of life" was first seen in 1785 in a William Cowper poem. When it comes to investing within your Roth IRA or 401k or brokerage account, there is plenty of variety as of late with daily introductions of new exchange traded funds (ETFs) and mutual funds.  Investors these days can invest in funds that focus on anything from robots, the cloud and even pet food. Heck, if there are any boozers out there, you could buy a fund that focuses on whiskey companies. Drink up!  For sustainably minded investors, it is easy these days to buy funds that invest in green alternative energy, smart grid technologies and community development that are paving the way for a greener future. 
The first step to understanding all of this variety is to get a good grasp of what's called "market sectors". By learning about the various stock market sectors, investors can gain a greater understanding about diversification options they have and really how the market is categorized. Or at least be better versed when speaking with your financial advisors about this topic. 
A sector is an area of the economy in which businesses share the same or related business activity, product, or service. Sectors represent a large grouping of companies with similar business activities, such as software or large retail shops. With the Federal Reserve's slew of rate hikes occurring over the last year, certain sectors may pull back while others could benefit from higher borrowing costs. This is anyone's guess of course. Only Bernie Madoff knew which way sectors would go and well, we all know how Bernie pulled off those market beating returns each year.
Here is a list of the 11 sectors of our economy and some company examples that fall under each sector, though not any kind of recommendation on these stocks:
Healthcare (Gilead Sciences, Stryker, Intuitive Surgical)
Materials (Nucor, Ecolab)
Real Estate (American Tower, Public Storage)
Consumer Staples (Hain Celestial, Costco, Diageo Whiskey)
Consumer Discretionary (Tesla, Starbucks, Nike)
Utilities (Consolidated Edison, Northwest Natural)
Energy (EOG Resources, Marathon Petro)
Industrials (Illinois Tool Works, UPS, MMM)
Communication Services (Google, Verizon)
Financials (Pacwest, Travelers, Silicon Valley Bank)
Technology (Apple, Nvidia, Salesforce)
Below is a list of the 11 sectors of the S&P500 along with how these sectors have performed relative to the S&P500 following a new cycle of rate hikes.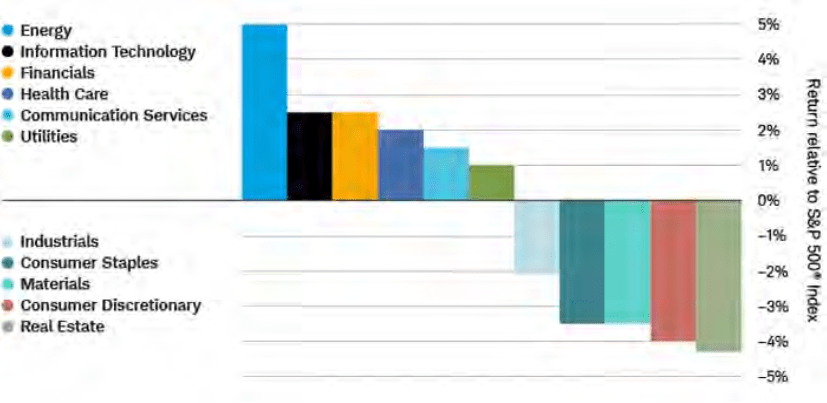 Charles Schwab, Ned Davis Research
If you are invested in the stock market but do not know what sectors you are invested in, reach out to your investment advisor or money manager and ask them. If you are doing it yourself, see if the program you are investing with gives you access to this information. It could prove important as you continue to sock money away into your nest egg.